Penguin Tranquer
Tranq Penguins With Friends
The Cold Roads (free videogame loop)
By: Free Game Music 1
We were assigned a multiplayer group project. The new requirements for this one were to have two AIs in the scene. After discussing as a group, we decided a hunting themed game would be perfect to fit all the requirements. The first thing I did was set up the player movement controls while someone else set up the guns shooting. I started by setting up the controls, so you could move using W A S D; and setting it up so not just the camera would follow the player's mouse, but the gun as well. One issue I had while setting this up was that you could rotate the gun and camera over your head so you would be looking upside down. After some quick research, it was an easy fix. I limited how much the camera and gun could rotate on that axes by using Unity's Mathf.clamp "rotationY = Mathf.Clamp(rotationY, minimumY, maximumY);". After setting up those parts of the controls, I decided to add a sprint and a jump. The sprint works by holding down the SHIFT key, and it multiplies your walk speed by 2. The jump is set to only allow you to jump using the SPACE bar if you are on the ground. After I was done with that, I realized we needed to be able to squat down. We did not have a player model, so I just set it to shrink the collider when you hit control to make it look like you are squatting.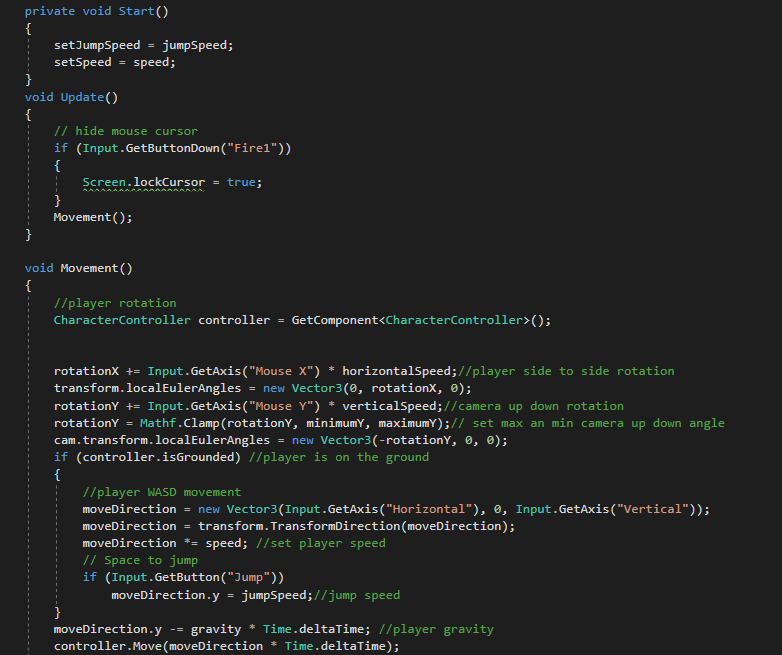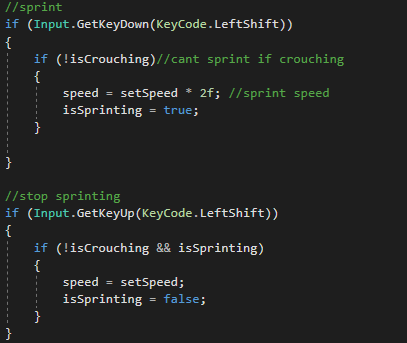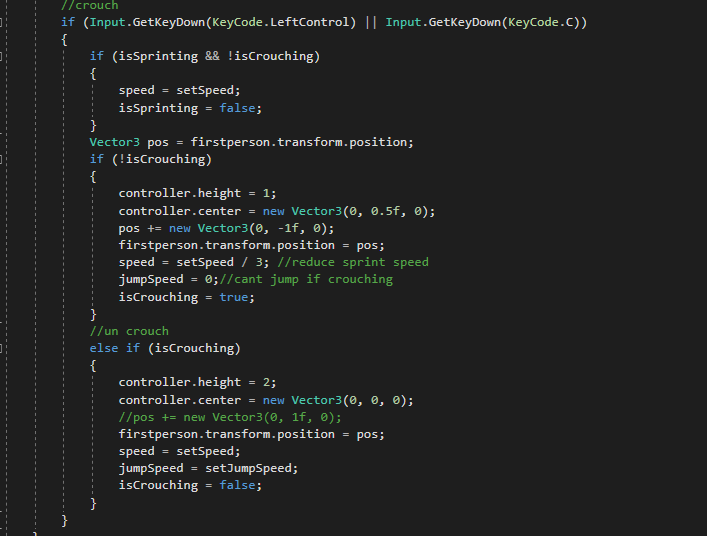 After I got all the controls set up and combined with the gun controls that Triton set up, I decided to take a break from coding and set up the playable environment. It was nothing special, just a simple artic tundra that we decided on to be the playable environment for our game. But, what's an arctic landscape without snow? So, I started messing around with Unity's particle system until I achieved a good snow effect. I first had it set to snow on the entire map, which I realized was a mistake. I shrunk the area of the snow just enough so that it wouldn't lag from having too many particles in the scene. Also, I made it so the player could not out run the snow. This gave the illusion that it was snowing over the entire area.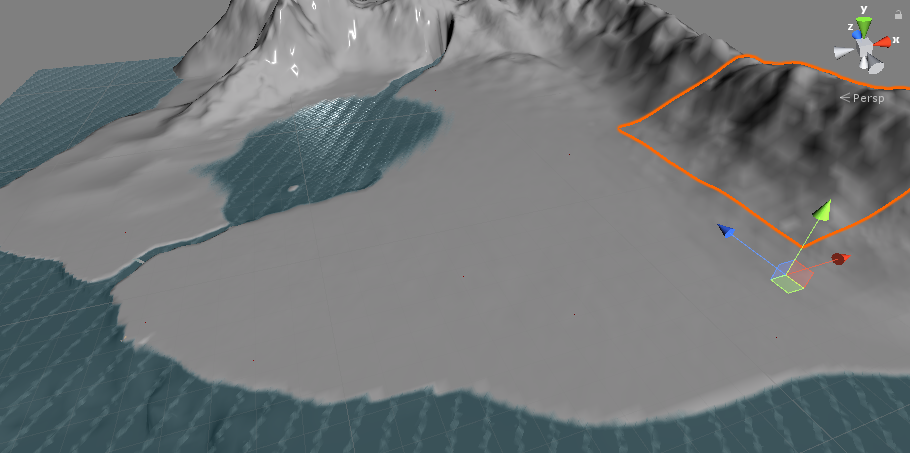 Next, we decided to use Photon instead of UNET this time to expand our knowledge and improve our problem-solving skills. I followed a few tutorials on how to set this up. I am going to save you the long boring side of things and just place the code below.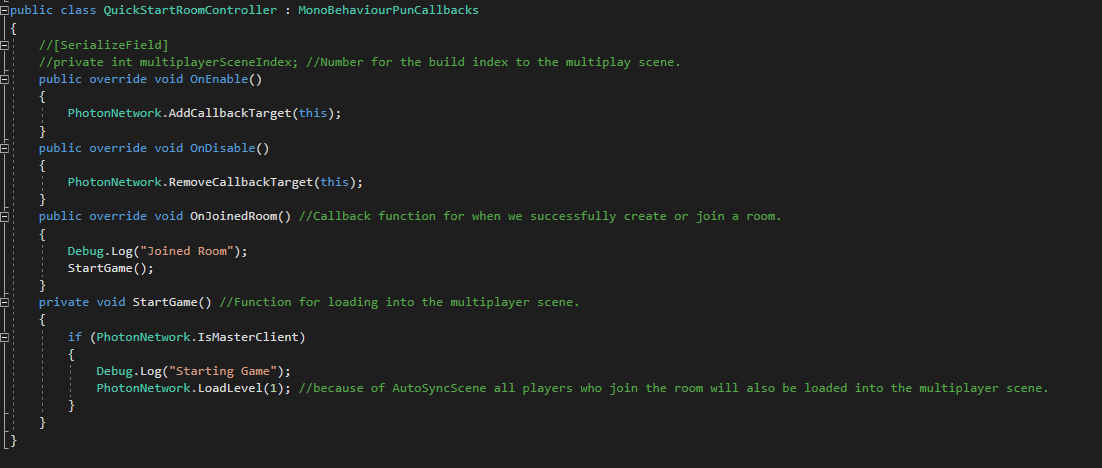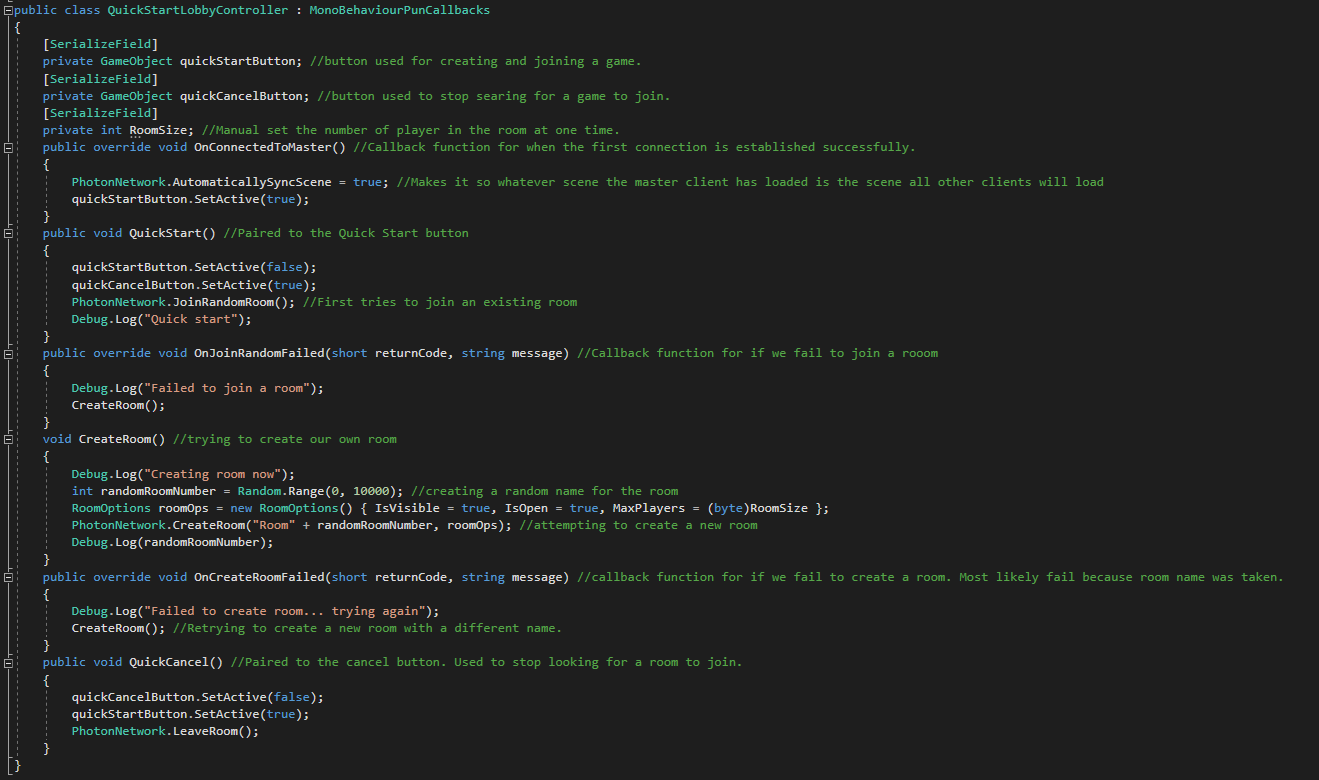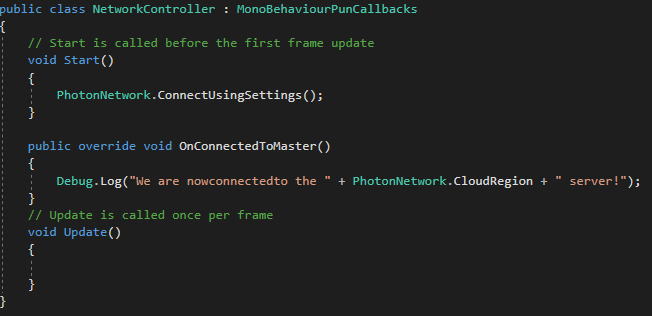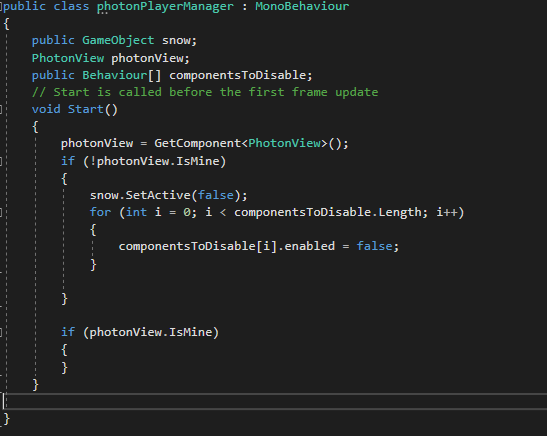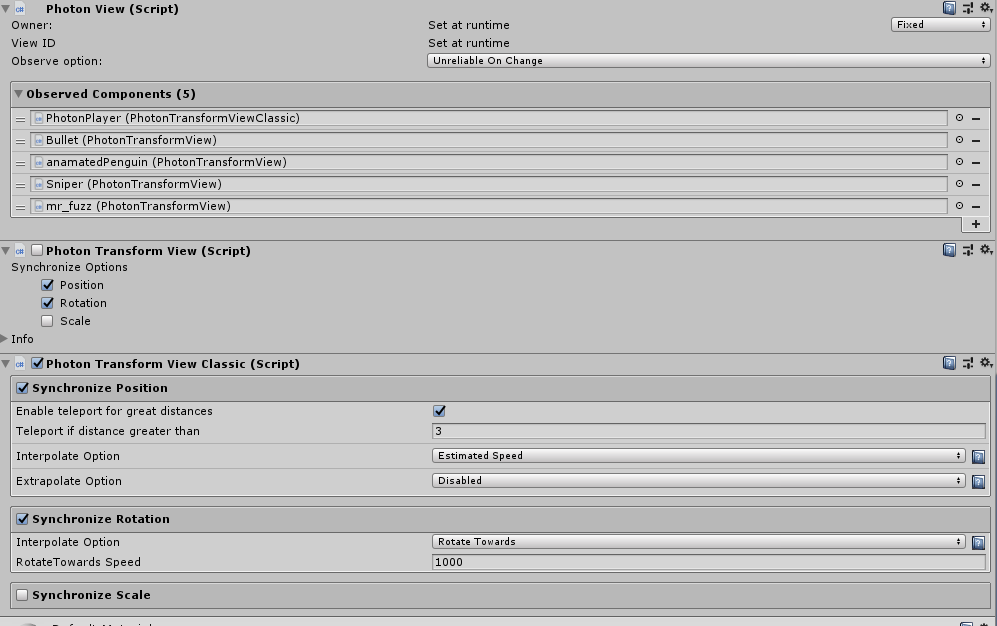 We ended up deciding we would hunt penguins, and there would be a monster hunting us. I set up a basic state machine that swapped between Idle, Walking, Eating, Running, and Dead state. I set it so the penguin would be in the Eating state mostly, but would randomly swap to the Walking state, so it felt more alive. If the player got to close, they would enter the Running state and run away from the player. If they are shot, they enter the Dead state where they play the death animation and die. I followed a simple tutorial about how to set up a Deer AI to figure this out. It was a great tutorial, and I have recommended it to multiple people already. I used the same AI for the monster with a few changes.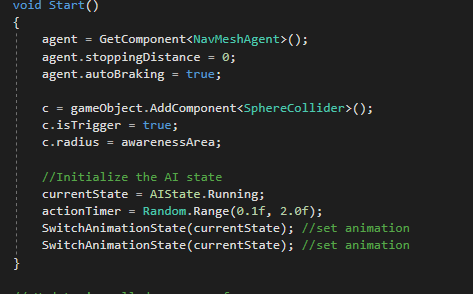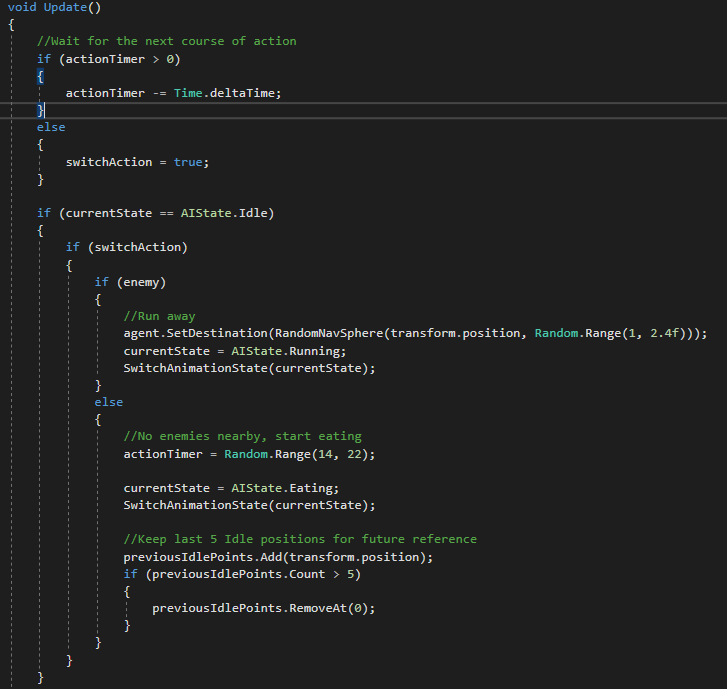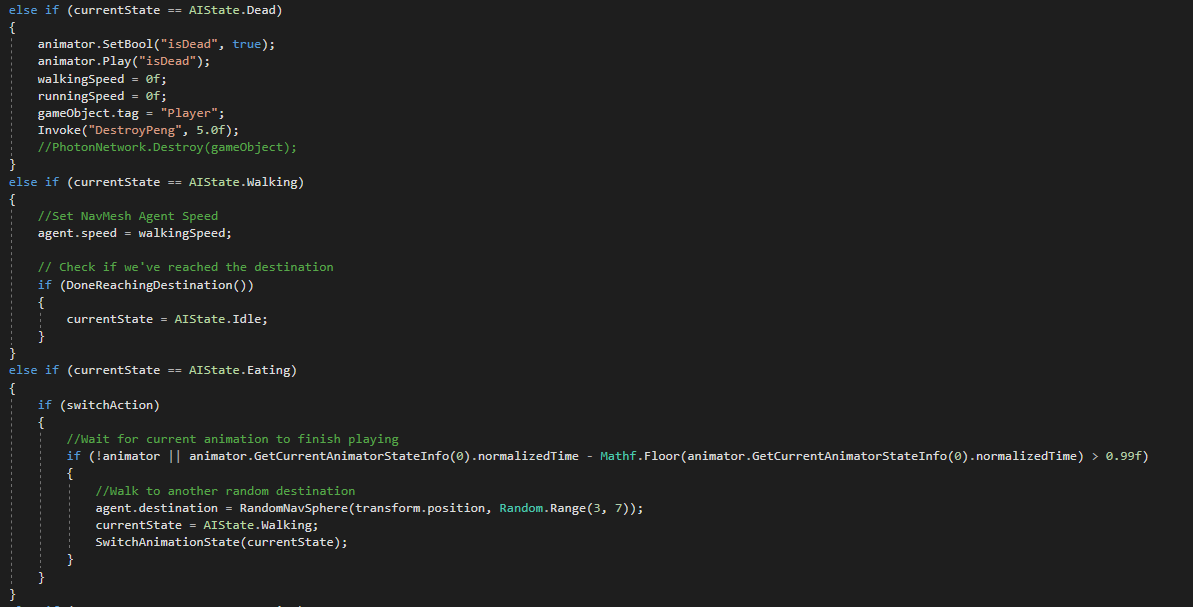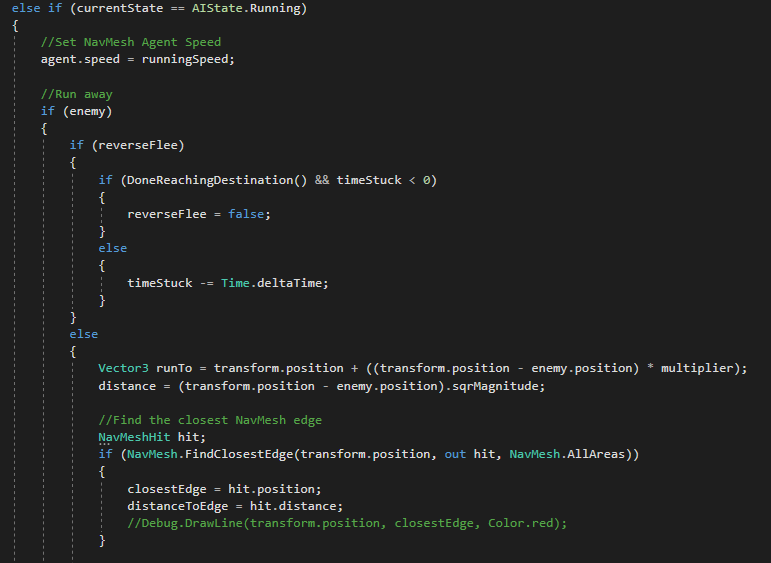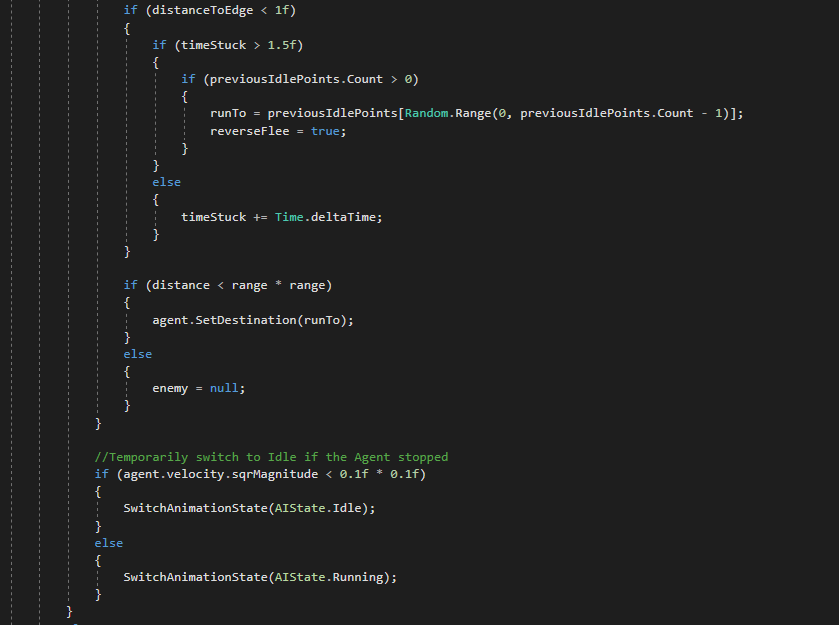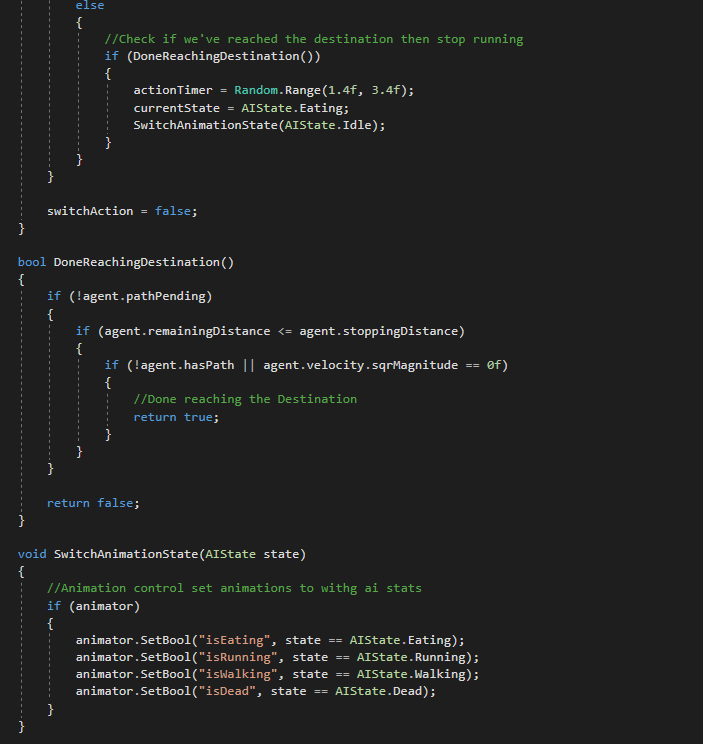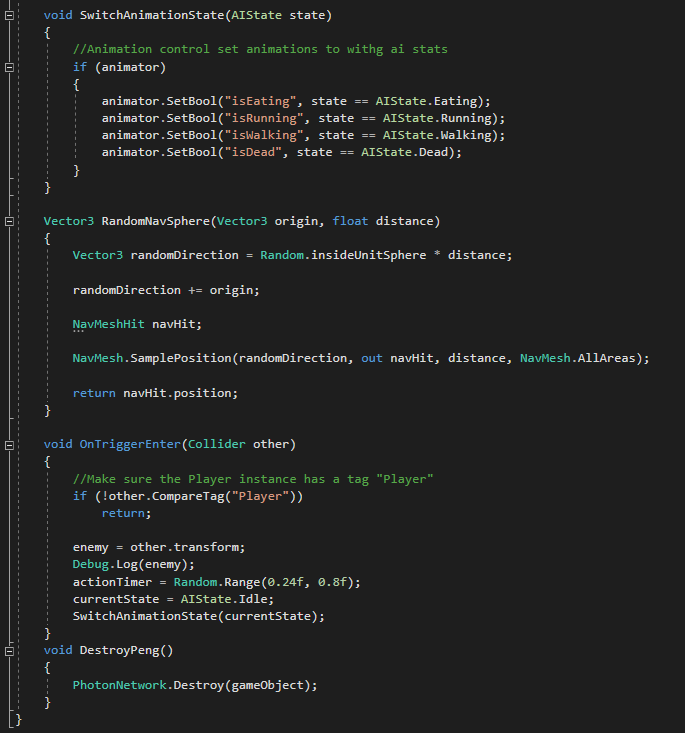 Finally, we were almost done. We just had to sync up the penguins and bullets over the network. This somehow ended up being the hardest part of the whole project. We read through some tutorials until we found one that worked and got them both synced up. After all this, I was able to start making connections on how UNET and Photon where similar and able to use it to fix problems with other projects that used UNET.
Class: GIMM 400
Program: Unity
Language: C#
Networking: Photon
Team Members: